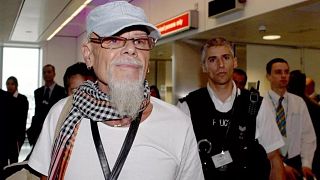 Disgraced British glam rock musician Gary Glitter has been recalled to jail for breaking his licence conditions.
The 79-year-old, whose real name is Paul Gadd, was released on licence last month after serving eight years of his 16-year sentence. At the time, a spokesperson for the Ministry of Justice said his licence conditions were "some of the strictest".
A Probation Service spokesperson said: "Protecting the public is our number one priority. That's why we set tough licence conditions and when offenders breach them, we don't hesitate to return them to custody."
The Ministry of Justice has not released details of the breach, however reports indicate that Glitter had been caught attempting to access the dark web. In the footage obtained by The Sun newspaper, Glitter could be seen using an internet-enabled smartphone and asking about 'duck duck' and 'onion', believed to be terms referring to the dark web.
Started by the US government in the 1990s, the dark web was originally used by intelligence agencies to protect their online communications. It uses a technology called "onion routing", which sends encrypted online traffic through a global network of computers in order to disguise a user's location and internet usage. 
While it continues to be championed by human rights groups and privacy campaigners, the dark web remains best known for its reputation of hosting content ranging from child abuse to illegal drug market places and murder-for-hire services.
The convicted paedophile was convicted and jailed in 2015 after having been convicted on multiple occasions.
He was accused of having sex with a 14-year-old girl in the late 1970s. In 1999, he was a sentenced for downloading child pornography and was convicted once again in 2006 for child sex abuse. He was expelled from Cambodia in 2002 amid reports of sex crime allegations, and was convicted of sexually abusing two girls, aged 10 and 11, in Vietnam in March 2006. He spent two-and-a-half years in jail.
On returning to Britain, Glitter was placed on the Sex Offenders Register for life.
His third conviction in 2015 conviction was for similar offences. He was first arrested as part of the Metropolitan Police's "Operation Yewtree", launched in the wake of historical sex abuse claims against late BBC star Jimmy Savile. He served three years in HM Prison Albany before being transferred to HM Prison The Verne in Portland, Dorset.