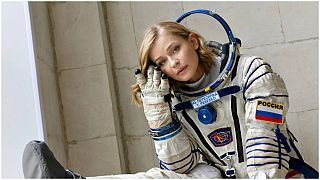 -
Copyright

Photo credit: Sasha Gusov
The trailer for the highly-anticipated, The Challenge, the first feature-length fiction movie to be filmed partially in outer space, has been released.
Directed by Russian filmmaker Klim Shipenko, the film was shot partially on board the International Space Station - 400 km above the Earth's surface, just a few months before the Russian invasion of Ukraine.
Vladimir Putin's space chief Dmitry Rogozin, head of the Russian State Space Corporation, Roscosmos, appointed himself a producer of The Challenge. 
The film tells the story of a female thoracic surgeon (Ylia Peresild), who goes to space to perform an operation on an astronaut (played by actual cosmonaut Oleg Novitskiy), whose injuries prevent him from returning to Earth.
Pereslid and Shipenko were also accompanied by Novitskiy's fellow cosmonauts Anton Shkaplerov, Pyotr Dubrov, and Mark T. Vande Hei, and spent a total of 12 days filming the sequences before returning home to earth.  
Shipenko has described the space-themed movie as an "experiment," given the challenges (no pun intended) of filming in an unfamiliar environment with no precedent to rely on, and noted the difficulties of working with light coming through a porthole, for which no cameraman has prior experience.
The Challenge is a joint project of Channel One Russia, Glavkosmos, Roscosmos State Corporation, Yellow, Black and White Film Studio, and START streaming service, produced with the support of the Russian Cinema Fund.
Is it really the first movie to ever be filmed in space?
Although The Challenge will be the first-ever feature film where the cast was flown into space for shooting, it is worth noting that the Soviet Union did have a head start in filming scenes on board a space station. 
In 1984, a science fiction film called Return from Orbit was released in the Soviet Union, which featured scenes shot onboard the Salyut 7 space station. 
While the actors did not actually travel to space to shoot the scenes, the filmmakers worked closely with cosmonauts to capture footage that would realistically portray life on board the station. 
This groundbreaking achievement paved the way for future filmmakers to explore the possibilities of space cinema, ultimately leading to the release of The Challenge nearly four decades later.
Sorry, Tom!
The news will come as a disappointment to Hollywood star Tom Cruise and director Doug Liman, who revealed plans in 2020 to travel to the ISS to shoot a feature film in collaboration with Elon Musk's SpaceX and NASA. 
But there's no sign of that movie yet, so it looks like the Russians have beaten them to it. Sorry, Tom!
The production expenses for The Challenge amounted to approximately 1.115 billion roubles (€13.9m), whereas the Cruise film is expected to have a much larger budget of $200 million (€189m).
The Challenge is set to take us to new heights on 12 April 2023 - the date of the first human space flight by Yuri Gagarin.
Check out the trailer in the web player above.