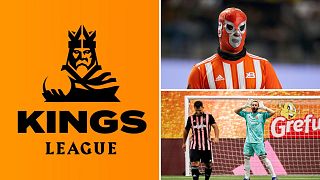 Football has been a beloved sport for generations. From the excitement of the first kick-off, to the nail-biting finishes, it has captivated audiences around the world. 
But what if there was a way to elevate the excitement even further and make it appeal to a completely new demographic? 
This is the concept behind Kings League, a new seven-a-side competition that is shaking up the world of football. 
There are no ticket sales, games cannot be found on any television channel in or outside Spain, yet hundreds of thousands of eyes - young eyes most likely - are already watching on phones, tablets and computers via the Internet.
Here's everything you need to know about this unbelievable sporting phenomenon. 
What is Kings League?
Founded by former Barcelona and Spain defender, Gerard Piqué, alongside Ibai Llanos, Spain's most famous online streamer, the Kings League is a seven-a-side competition which began on 1 January 2023 and consists of 12 teams.
Teams are presided over by the likes of Manchester City's record goalscorer Sergio Kun Agüero and Real Madrid goalkeeping legend Iker Casillas, and include young local players and several retired Spanish league professionals. 
In Round One, Mexico star Javier "Chicharito" Hernandez even made a one-off appearance as a "ringer" even though he is an active player for the LA Galaxy.
There are even masked players like "Enigma", whose identity sparked huge debate and speculation online. It turned out that the mysterious baller under the mask was 27-year-old Cadiz midfielder, Nano Mesa! 
Agüero himself even played his first match dressed as a clown. 
The concept is undeniably a winning formula. It's drawn a significant online audience with match-day viewing figures upwards of one million on Twitch, TikTok and YouTube. 
"The Kings League was born out of a reflection on how to try to create a product that is compatible with professional football, that has a parallel life, but that is as entertaining as possible," the managing director of Kings League, Oriol Querol told Euronews Culture.
Here's everything you need to know about the sporting phenomenon. 
How do Kings League matches differ to traditional football?
Listen up folks because the Kings League rules are far from your average game of 11-aside Sunday League football. 
Matches are 40 minutes long and consist of two 20 minutes halves.
Before each match, teams pick one of five secret golden cards that can give them an advantage during the game. These include an instant penalty, removing a player from the opposition team, double points for a goal, steal the opposing team's card, or a joker card that lets you pick any of the four bonuses.
Similar to water polo, the game starts with both teams sprinting to the centre of the pitch to gain possession of the ball. 
Unlimited substitutions are allowed, but if a player gets a yellow or red card, they're sent to the sin bin for a set amount of time.
In case of a tie, the game goes to penalties where players dribble from the half-way line and shoot against the goalkeeper like in ice hockey. 
Teams have one opportunity to use VAR, but if it's unsuccessful, they can't ask for it again. 
After goals, flares shoot sparks from behind the net while strobe lights flash and spotlights swirl. 
While it all sounds completely bonkers, it is thrilling to watch. 
How popular is Kings League?
Kings League has undeniably been a huge success. 
According to Querol, they've had "weekly averages of over 600 700,000 people watching the games. We reached a point a few days ago of live views of more than 1,370,000 people watching a match." 
And companies have taken notice. Sponsors include Adidas and Spotify and McDonald's delivery service is among the advertisers. 
Gerard Piqué even announced that the league landed a sponsorship deal with Casio, after his ex-girlfriend Shakira mocked him with a Casio reference in her viral Bizarrap hit(which currently has 257 million views on YouTube!). 
Despite the games usually taking place inside of an industrial pavilion in the desolate outskirts of Barcelona's port, with few in person spectators, on 26 March, Barcelona FC's Camp Nou stadium will be hosting the four best teams in the competition, who will play for the title of champion. 
"We are selling tickets now that there are still tickets available. And this is the Kings League Final Four, which is the first split that we have been playing," Querol told Euronews Culture. 
Will there be a Queens League?
Yes there will be. 
And it begins on 6 May. 
"Every week there will be two competitions, Saturday Queens League, Sunday Kings League and we are now in the process of selecting the girls who will participate in the Queens League," says Querol. 
"We're going to have a draft where the teams will be able to pick their players and the players will also be employed by the League. They're going to be paid the same as the guys, they're going to have the same conditions," he added. 
What is next for Kings League?
Piqué and his team feel Kings League is a concept that has scope for expansion.
"We believe that the product, because we have been working on it for a long time, is powerful and football is the king of sports all over the world, so it makes sense to think about ways to expand the project," Querol explained to us. 
"Probably during this year we will be making announcements," he teased. 
So people of Europe, hold on to your shin pads, as King League may soon be coming to a city near you.
Check out the video in the web player above for our interview with Kings League's managing director Oriol Querol.