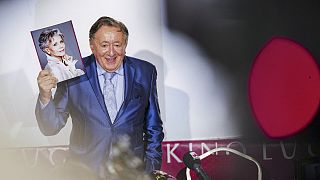 -
Copyright

Eva MANHART / APA / AFP
One-two-three, One-two-three... Vienna is finally waltzing again after two years of coronavirus restrictions.
Austrian billionaire Richard Lugner is planning to bring to the opera ball, perhaps, his most formidable date yet, Jane Fonda.
Since 1992, the 90-year-old building contractor has brought famous women to the city's most prestigious event, and they are typically three decades younger than him.
Joan Collins has already shone at his side, as has Sophia Loren, Kim Kardashian and in 2020, Ornella Muti, just to name a few.
This year's Vienna Opera Ball will be held on 16 February and is broadcast to millions around the world.
Lugner has admitted his dancing skills and English are a little rusty, and he will be needing them and more to impress Fonda.
"She's a great woman and has achieved a lot," he said at a press conference Thursday, according to the Austrian news agency APA.
Jane Fonda is one of the most acclaimed actresses of her generation. 
She was a prominent figure in the women's rights movement of the 70s, and these days can be found protesting against climate change in the US capital - often in handcuffs. 
She announced last month, shortly before her 85th birthday, that she was diagnosed with cancer in September and was successfully treated. 
For more watch Euronews' report in the video above.