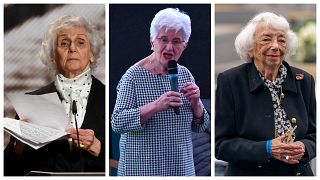 Most of the now living Holocaust survivors were children when the Second World War tore their lives apart. 
For many, it was not easy to talk about the horrors they experienced, but as time passed they felt they should speak up, tell their testimonies to warn humankind.
Lili Leignel and her family were deported from France when she was 11-years old. She decided to speak out in 1983 after listening to Holocaust deniers on a radio show denying the use of gas chambers to kill people. She now shares her story students across France; asking them to be vigilant and brave, but also challenging them to prevent the spread of lies. 
Margot Friedländer's family was taken by the Gestapo from Germany. As the 20th century drew to an end, she began writing down what she witnessed. She moved back to Berlin in 2010 and has since regularly met with students. Her mission is to speak for all those innocents who were murdered by the Nazi regime and make sure it never happens again.
Shelomo Selinger was taken away from a Polish town and survived nine different concentration camps during the Second World War. Sculpture and the love of his life helped him deal with the subsequent trauma and nightmares.
Eva Fahidi was deported to Auschwitz from a Hungarian town. She dedicated her life to make sure the fate of Jewish women would never be forgotten, but she is also an example on how to enjoy live even after the horrific event of the Nazi camp.
Watch the video player above to see their stories and hear their message.