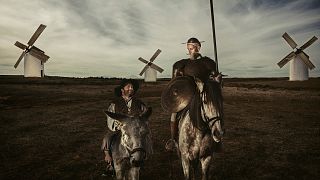 -
16 January 1605: The first publication of the novel Don Quixote.
On this day, a literary masterpiece was first assembled as a novel. The epic masterpiece of Spanish writer Miguel de Cervantes, 'The Ingenious Gentleman Don Quixote of La Mancha' was written originally in two parts.
Cervantes wrote the first part of Don Quixote and sold it to the publisher Francisco de Robles in July 1604. Published just over five months later, the first run only produced 400 copies - the majority of which were lost to a shipwreck.
70 remaining copies reached Lima, Peru. From there, the novel grew in success exponentially. New presses started up across Europe as people couldn't get enough of the novel. In fact, Cervantes' novel was so popular that a copycat novelist published a fake second part to the original in 1614.
The fake sequel prompted Cervantes to pen his own sequel, which was released in 1615, a year before his death.
Cervantes wrote the book in early modern Spanish and it's considered one of the major influences on contemporary Spanish. Despite many references to earlier mediaeval Spanish, the book is still readable in its original form to modern Spanish speakers.
The story also has been incredibly influential. The comic novel follows a lower noble as he becomes consumed by the idea of life as a knight. He rebrands himself as Don Quixote de la Mancha, takes in a farmer as his squire, and tours the land as the knight he wishes he was.
The phrase "tilting at windmills" meaning fighting imaginary enemies was derived from a section where Don Quixote jousts the aforementioned building.
Artists inspired by Don Quixote are legion. Everyone from Flaubert, Dostoevsky, to Rushdie consider themselves indebted.
The novel is also the inspiration behind tons of songs and has spawned endless adaptations.
A notable recent adaptation by Terry Gilliam, 'The Man Who Killed Don Quixote' was a passion project from the American-British comedian and filmmaker. Gilliam strived for nearly 30 years to have a Don Quixote film made, a dream that came true in 2018 when his tale of a modern marketing executive thrown back in time was released.
Also on this day...
Historic horror hits
A few centuries later, 16 January would herald the birth of one of cinema's greatest influences. John Carpenter was born on this day in 1948.
Celebrating his 75th birthday today, Carpenter is pretty much the definitive name in cinema for cult horror classics.
That Halloween horror series with endless reboots started when Carpenter directed the first one in 1978.
And Halloween wasn't where he stopped. 
Between incredible titles like The Fog, Big Trouble in Little China, They Live and of course The Thing; Carpenter is recognised for making some of the most politically astute, wryly clever, and witty films to grace our screens.
Happy birthday John!