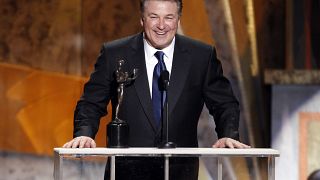 Copyright

Mark J. Terrill/AP2010A
-
Actor Alec Baldwin has been hit with a second lawsuit concerning a fatal shooting on a movie set last year.
Family members of Halyna Hutchins, the cinematographer who died on the set of the ill-fated western 'Rust', announced their intention to sue Baldwin yesterday.
At a news conference announcing the lawsuit, attorneys for the husband and 9-year-old son of Hutchins said that Baldwin refused training for the type of "cross-draw" he was performing when he fired the shot that killed her.
Baldwin's attorney responded that any claim the actor was reckless is "entirely false."
The incident which caused Hutchins death took place in October 2021 and has been plagued by rumour and scandal. A police investigation is ongoing.
In a TV interview Baldwin denied he pulled the trigger on the gun that killed Hutchins and injured a second person, director Joel de Souza.
The film's on-set armourer, Hannah Gutierrez Reed has been the focus of much scrutiny and at one point claimed she was the victim of set up.
Investigators have said there was "some complacency" on set regarding gun safety.
Who is already suing Baldwin over the 'Rust' shooting?
Hutchins' family are not the first to file a complaint against Baldwin in the aftermath of the cinematographer's death.
Serge Svetnoy, the lighting chief on the set of 'Rust', was nearby when the shooting occurred and is suing Baldwin for "severe emotional distress".
Svetnoy, who claims he took part in the film at Ms Hutchins suggestion, says he held the crew member in his arms as she died.
At a press conference in Los Angeles Svetnoy said this was his ninth movie working with Hutchins. He said the pay for the film was 'terrible' and he took the work to be with his friend.
"She was my friend. That's why."
"I was so concentrated and I tried to save her life. I just hold her, I spoke with her all the time."
Mr Svetnoy's attorney, Gary A Dordick, added, "The bullet that killed Halyna Hutchins and injured Joel Souza passed by Mr. Svetnoy's face, so close the bullet fragments hit him in his face.
"He was there on set right next to his friends. When Miss Hutchins was shot, he held her in his arms, blood on his hands while she lay dying on the set, waiting for help."
Svetnoy claims he saw the gun lying unattended in the dirt a few days prior to the incident and had raised the alarm.
Halls, the film's assistant director, had confirmed to Baldwin the gun was "cold" (did not contain real bullets) upon handing it to him.
No criminal charges have yet been brought in a case which has sent shock waves through the film industry.