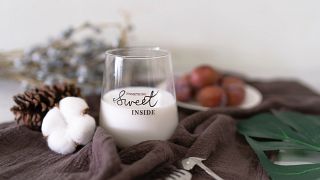 One of the biggest environmental issues in the European Union is how to reduce food waste and tackle issues around water scarcity across the supply chain.
In the UK alone, food waste is estimated to have a value of more than £20 billion (equal to €22.78 billion - approximately the GDP of Cyprus) per year, says UK charity WRAP.
At the same time, textiles account for a quarter of the environmental pollution in the region.
So when it comes to sustainable clothing, food can play an important role, and there are already some outstanding examples out there starting from an innovative natural textile made from pineapple leaf fibre to making milk fibre.
The latter is made from high concentrations of casein, a milk protein. In fact, the technique is not new. In the '30s, Italian chemist and engineer Antonio Ferretti came up with the idea and patented it under the name, Lanital. However, the market soon moved on to cheaper synthetics.
Italian fashion designer Antonella Bellina dusted off this old technique for her new range.
Click on the video and see how she makes fabric out of milk in Tuscany.