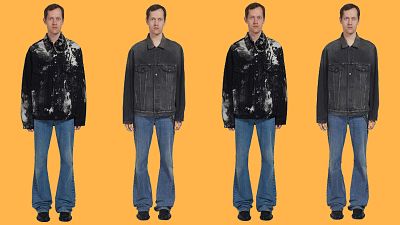 By Chrissy Callahan with TODAY Lifestyle
Boot-cut jeans are trying to make a comeback, and people have a lot to say about it.
Earlier this week, GQ sent social media users into a frenzy after reporting on the revival of the mid-2000s trend. The magazine cited Balenciaga's spring collection, which includes a pair of flowy jeans, as potential proof that boot-cut denim is slowly creeping back into our lives.
In the world of fashion, revival trends are nothing new, but this seems to be one denim trend that the Twitterverse wants to keep in the past. Author Joe John Glenton expressed his dismay with a simple phrase: "Can't we opt to bring back something less horrific like cholera?"
Chrissy Teigen chimed in to sound off against the trend.
Boot-cut jeans and their flared bottoms have been out of style for over a decade now. And most fashionistas want to keep it that way.
Many Twitter users thought the revival trend was some kind of sick joke.
And some argued that Balenciaga's version of boot-cut denim wasn't even made properly.
Of course, there were a few people who were excited by the idea of boot-cut denim coming back.
But the majority of social media users agreed: Balenciaga needs to stop trying to make boot-cut jeans happen.