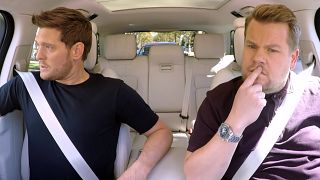 Copyright

The Late Late Show with James Corden YouTube
By Ronnie Koenig with TODAY Lifestyle
Michael Bublé was brought to tears talking about his son's cancer battle in a recent episode of "Carpool Karaoke" with James Corden. The 43-year-old singer appeared in a special Stand Up to Cancer episode of the show to talk about his son, 5-year-old Noah, who was diagnosed with liver cancer at age three.
"We got the diagnosis, and that was it man," the singer said, recalling the day in 2016. "My whole life ended."
Noah is, thankfully, doing well after receiving chemotherapy.
"It's too hard to talk about man," the singer said, struggling at first to talk about it.
Bublé and his wife, Argentine actress Luisana Lopilato. have three children, including Noah, 5, Elias, 2, and a baby girl, Vida, who was born this past summer. They, along with members of their extended family, moved to be near the hospital where Noah received care.
Bublé told Corden that during treatment, he was the one to stay strong for his family, but after learning that Noah was alright, he fell apart. "I'm not ok," he admitted.
"My wife, honestly, when this all started, I became the strength to somehow pull us and lift us and to be positive. And when they got [the cancer] out and the chemo was done and they said, 'We did it, it's good, he's ok,' I fell, I just fell. My wife picks me up now."
According to the American Cancer Society, about 10,590 children in the United States under the age of 15 will be diagnosed with cancer in 2018. Childhood cancer rates have been rising slightly for the past few decades. After accidents, cancer is the second leading cause of death in children ages 1 to 14. Pediatric liver cancer is rare and most often affects children age three and under.
And while Bublé took time off from his career to be there for his son, he recently told fans he is definitely not retiring from the music business. He released the first single in almost two years, 'When I Fall in Love,' last month, and Love' is due on Nov. 13
.
At the end of the episode, Bublé urges viewer to make a difference by donating to Stand Up to Cancer.
Bublé says that although his son Noah loves super heroes like Spiderman, he tells him that, "they're fake, they're not real ... you're a super hero, you're my hero, my real super hero."