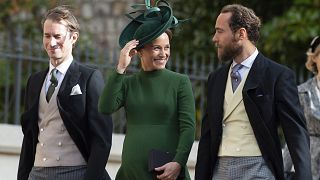 Copyright

WILL OLIVER EPA
-
By Drew Weisholtz with TODAY Lifestyle
It's a big week for baby news in the royal family.
Pippa Middleton gave birth to a baby boy on Monday. Her son arrived at 1:58 p.m, weighing 8 pounds, 9 ounces.
"Everyone is delighted and Mother and baby are doing well," a rep for Middleton said.
It's the first child for Middleton and her husband, James Matthews.
Middleton, the younger sister of Catherine, Duchess of Cambridge, confirmed she was pregnant back in June.
The 35-year-old had been out and about during her pregnancy, including taking in some tennis during Wimbledon in July. She was also in attendanceat Princess Eugenie of York's wedding last week.
She gave birth not long after word came down that the Duke and Duchess of Sussex are expecting a baby next spring.
In addition to his parents, Middleton's bundle of joy joins his royal cousins Princess Charlotte, Prince Georgeand Prince Louis, who was born in April.
Middleton has used her high-profile platform to pen a column for British supermarket chain Waitrose, in which she talked about the effects of pregnancy on her body and how stretching, meditating and walking played a key role in helping her prepare for the birth of her child.
"Without those three things I would certainly not feel as good as I do right now, and I hope they will continue to keep me sane and levelled for the months and years ahead," she recently wrote.
She also noted how pregnancy influences what may happen after she gives birth. "The transformations to my body that are taking place as it prepares for childbirth have meant that the sound sleeps and the baby bubble effect have gone," she wrote. "Reality is finally kicking in. Perhaps this is the body's way of making sure that you get in tune with what lies ahead."