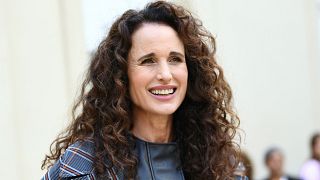 -
By Chrissy Callahan with TODAY Lifestyle
It's been quite some time since Andie MacDowell walked down a runway, but the 60-year-old can still strut her stuff like a pro. The actress returned to the catwalk Sunday morning for the L'Oréal Paris Fashion Week show, and walked on a barge docked in the Seine river.
No big deal, right?
MacDowell joined an all-star lineup of models — including Eva Longora, Elle Fanning and Duckie Thot — for the event, which arguably blew last year's fashion show on the Champs-Élysées out of the water.
While she's also known for her acting roles in hits like "Groundhog Day," MacDowell got her start modeling in Paris at the age of 20, so this return trip to the City of Light was pretty sweet.
"I haven't walked a show in a long time," she told Vogue, adding that the experience made her fall in love with Paris once again. "This city is where I got my education and grew up in so many ways. Oh, and learned how to wear red lipstick."
The actress has worked with L'Oréal Paris for 32 years, and has modeled for some of the biggest names in the industry. At the age of 60, MacDowell shows no signs of slowing down and she believes every woman — regardless of age — should be represented in the industry.
"Everybody should be allowed to feel they are a part of fashion and beauty," MacDowell told InStyle. "It shouldn't be elitist. I'm here, and I think that's important. We are changing the concept of what beauty means, and that it is for a lifetime. Life is valuable, and to be enjoyed. We should feel good about ourselves. We should be included."
Luckily, an increasing number of brands are starting to think the exact same way, and MacDowell said she's excited about that.
"I'm in the process — and have been in the process — of aging," she told InStyle. "And with L'Oréal, I've really been able to (spread the message) that there's no time limit on beauty."