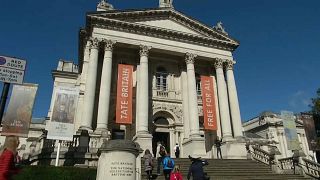 Experimental video dominates this year's nominations for the UK's Turner Prize. The Tate Britain is displaying the work of the four nominees who all work with moving images, from 35mm film to smart-phone-shot movies.
"The artists this year represent the best of what's happening in contemporary art right now, and they discuss really urgent issues," explained the Curator of Contemporary British at Tate Britain, Linsey Young. "They talk about politics, they talk about queer identity, about racial politics, really urgent things that we as a society need to look at right now."
The Turner Prize, named after the English painter J. M. W. Turner, often makes the news not just for the art but for the public's reaction to it. It aims to showcase the best of contemporary British-based art. The winner of the prize will be announced at an award ceremony beginning December and the exhibition runs until 6 January at Tate Britain in London.
The nominees
Forensic Architecture: An interdisciplinary team that includes architects, filmmakers, lawyers and scientists, Forensic Architecture's work uses the built environment as a starting point for explorations into human rights violations.
Naeem Mohaiemen: Encompassing films, installations, and essays, his practice investigates transnational left politics in the period after the Second World War, the legacies of decolonisation and the erasing and rewriting of memories of political utopias.
Charlotte Prodger: She works predominantly with moving image, sculpture, writing and performance. Her work explores issues surrounding queer identity, landscape, language technology and time.
Luke Willis Thompson: Working across film, performance, installation and sculpture, his works tackle traumatic histories of class, racial and social inequality, institutional violence, colonialism and forced migration.
The Jury
The 2018 jury comprises Oliver Basciano, art critic and International Editor at ArtReview; Elena Filipovic, Director, Kunsthalle Basel; Lisa Le Feuvre, Executive Director, Holt-Smithson Foundation; and Tom McCarthy, novelist and writer.