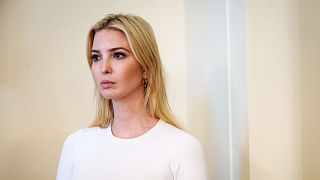 Copyright

MANDEL NGAN AFP/Getty Images
-
By Ronnie Koenig with TODAY Lifestyle
Ivanka Trump has made the decision to shutter her namesake fashion brand.
The company, which launched in 2014, saw a spike in sales during the 2016 election but became a target for protests during President Trump's administration.
Ivanka Trump, a mother of three, stopped working directly with the company about a year ago to focus on her role as senior advisor at the White House, though she still continued to receive profits from her brand, according to the nonpartisan watchdog CREW.
"When we first started this brand, no one could have predicted the success that we would achieve," Trump said in a statement released Tuesday. "After 17 months in Washington, I do not know when or if I will ever return to the business, but I do know that my focus for the foreseeable future will be the work I am doing here in Washington, so making this decision now is the only fair outcome for my team and partners.
"I am beyond grateful for the work of our incredible team who has inspired so many women; each other and myself included. While we will not continue our mission together, I know that each of them will thrive in their next chapter."
The brand, which sold dresses, shoes and accessories, had come under scrutiny from critics of President Trump's administration. In May, Chinese trademarks issued to the brand raised questions about whether Ivanka Trump had received special treatment from a foreign government.
The brand had been pulled from Nordstrom and Hudson's Bay, with both citing poor sales as the reason.
Brand president Abigail Klem reflected on the company's success on the day her employees were informed it would be shut down.
"We are incredibly proud of the brand we have built and the content and product we've developed for our customers," said Klem in a statement. "Our platform has become an indispensable resource for our loyal community of women. We've seen strong sales since the brand's inception, which continued through this year with the successful launch of our rapidly growing e-commerce business.
"I know that this was a very difficult decision for Ivanka and I am very grateful for the opportunity to have led such a talented and committed team. When faced with the most unique circumstances, the team displayed strength and optimism. From the initial launch of the brand in 2014 to the recent expansion of direct-to-consumer capabilities on our website, I am thankful to the team for the great work they have done and to our outstanding partners who so diligently executed our brand vision."