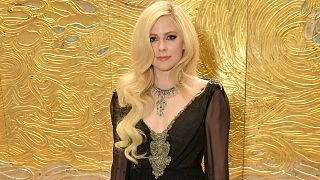 -
Copyright

Neilson Barnard Getty Images
By Gina Vivinetto with TODAY Lifestyle
Avril Lavigne is back!
The "Sk8er Boi" singer made her first red carpet appearance in two years last Friday when she showed up to the 25th Annual Race to Erase MS Gala at The Beverly Hilton in Beverly Hills, California.
The notoriously private singer, who's kept an even lower profiled since being diagnosed with Lyme disease in 2014, told Entertainment Tonight she's excited to release new music she's been working on.
"I'm feeling a lot better," the 33-year-old singer said about her health. "It's been a long time. For me to be able to be here and I'm making a record right now. I have my life back which is amazing. It's something I continue to work at every day. And just, like, grateful to be making music."
Lavigne, who's on the board of directors for the Nancy Davis Foundation for Multiple Sclerosis, said fans should expect her new record to be deeply personal.
"I've written a really powerful record, really emotional album sort of reflecting where I am today," she revealed, adding that she expects to finish recording in two weeks and plans to release the album this year.
"I mean, I write all of my songs and I always have, and these songs are different," she added. "I'm just sort of writing about what I'm going through now."
In December 2016, Lavigne checked in with fans to announce an album that was originally going to be released in 2017. The singer used the opportunity to thank everyone who'd been rooting for her while she fought to regain her health.
"I wanted to first thank my fans for your patience and support during my time away throughout my battle with Lyme Disease over the past two years," she wrote on Instagram. "It hasn't just been a hard battle but it's also been enlightening and will reflect in my new music, artistry, life, and personally."
This past August, the singer let fans know the album was still in the works.
"It's been a long recovery and I want to make sure that this is perfect for you guys," she wrote.