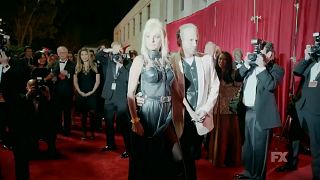 The grisly 1997 murder of Italian fashion icon Gianni Versace in Miami Beach has been made into a miniseries, with Penelope Cruz in the role of Gianni's larger-than-life sister, Donatella.
"All the love and respect that I feel for her is in the performance. It's like I told you: my homage to Donatella," said Cruz.
"It's based on a very acclaimed nonfiction book called 'Vulgar Favors' by Maureen Orth. That has been vetted for almost two decades," said producer Ryan Murphy, "and I think Maureen is a meticulous reporter and so we stand by Maureen and the work that we drew our work from." 
The movie version is a big-screen excursion for TV company FX, the makers of "Breaking Bad", another newish player in the Hollywood landscape shaking up the big studios along with Amazon, Yahoo or Netflix.
Edgar Ramirez takes the title role, with singer Ricky Martin playing his boyfriend. The Versace family has dismissed the film as "pure fiction".
The series is another outing for the American Crime Story team, who had a hit with their reconstruction of the OJ Simpson trial.