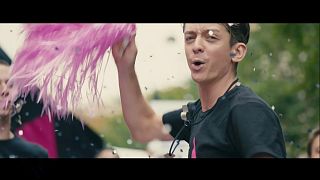 There is no shortage of festival hits and Oscar hopefuls among this year's nominations for the European Film Awards, widely seen as Europe's answer to the Oscars.
We're happy to announce the 30th European Film Awards' guests and presenters https://t.co/teRNvcHixV#efa2017pic.twitter.com/xoDCHrMt0F

— European Film Awards (@EuroFilmAwards) 5 décembre 2017
Best Film
Five movies are contending for the coveted Best Film award, starting with Ruben Östlund's 'The Square'. A satirical drama centered on the curator of a contemporary art museum in Stockholm, it was inspired by Östlund's own experiences with the world of contemporary art. The film picked up the Palme d'Or at this year's Cannes film festival and is nominated in five other categories (Best Actor, Best Director, Best Screenwriter, Best Comedy and Best Production Designer)
The Golden Bear laureate at this year's Berlin Film Festival, 'On body and soul' by Ildiko Enyedi is a love story set in a Budapest slaughterhouse about two workers who discover they share the same dream about meeting as deer in a forest. It has a total of four nominations (Best Film, Best Director, Best Actress, Best Screenwriter).
Also running for Best Film is Russian drama 'Loveless' by Andrey Zvyagintsev about a couple going through a messy divorce whose son disappears following a nasty argument. It picked up this year's Jury Prize in Cannes.
Another Best Film contender is '120 Beast Per Minute', a French drama by Robin Campillo, which follows a group of HIV/AIDS activists in Paris in the early 1990's. The film won the runner-up Grand Prix prize in Cannes. The film, which has received both critical and public acclaim, is France's entry for Best Foreign Language Film at the Oscars.
And finally, Finnish director Aki Kaurismäki is back with a melancholic comedy, 'The other side of hope', the story of a traveling salesman and a Syrian refugee who doesn't want to be sent back home. The film earned him the silver Bear for best director at the Berlin Film Festival.
Best Director
The five nominees for Best Director are award-winning Russian filmmaker and screenwriter Andrey Zvyagintsev ('Loveless'), Hungarian director and screenwriter Ildikó Enyedi ('On body and soul'), Greece's Yorgos Lanthimos ('The Killing of a Sacred Deer'), Aki Kaurismäki ('The other side of hope') and Swedish director Ruben Östlund ('The Square').
Changing the Social Contract: We talk to Ruben Östlund about his Palme d'Or-winning THESQUARE, his creative process, sociological curiosities, and primate preoccupations. https://t.co/tjERttrBWepic.twitter.com/GgedX5nOrc

—

MUBI

(@mubi) 1 décembre 2017
Best Actress
Best Actress nominations have gone to France's Juliette Binoche for her role as a Parisian artist and divorced mother looking for love in 'Let the Sunshine In' by Claire Denis, Isabelle Huppert as an upper-class entrepreneur in Michael Haneke's drama 'Happy End', Germany's Paula Beer for her role as a grieving fiancée in François Ozon's 'Frantz', Britain's Florence Pugh in 'Lady Macbeth' by William Oldroyd, and Hungarian actress Alexandra Borbély in 'On Body and Soul'.
Best Actor
Vying for Best Actor are Argentina's Nahuel Pérez Biscayart in '120 Beats per Minute', veteran French actor Jean-Louis Trintignant in 'Happy End', Austria's Josef Hader for his portrayal of the Austrian writer in 'Stefan Zweig: Farewell to Europe', Irish actor Colin Farrell in Lanthimos' 'The Killing of a Sacred Deer', and Danish actor Claes Bang for his lead role in Östlund's Palme d'Or winner 'The Square'.
The winners of the European film awards will be announced on December 9th in Berlin.