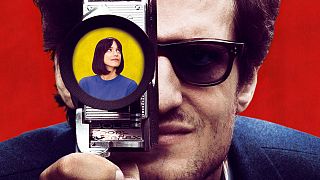 Multiple Oscar winner Michel Hazanavicius is in Deauville this week heading the jury of the prestigious American film festival.
I really enjoy making comedy, I believe it's a very noble film genre.

Film director
The French director shot to international fame in with his black and white film 'The Artist' which picked up five Academy Awards including the coveted Best Picture in 2012.
Euronews met up with him in Deauville, where we asked him about his new film 'Le Redoutable', an irreverent biopic comedy about French director Jean-Luc Godard.
Hazanavicius wanted to make Redoubtable after reading the memoirs of actress Anne Wiazemsky, Godard's wife at the time.
Michel Hazanavicius, film director:
"People have said to me: 'You are attacking Godard.' The film is not an attack on Godard at all, but I can see why they would say that. I approached the subject very joyfully. From the moment you are joyful, you can be daring. I am not an admirer of Godard, I don't worship him, I am not an heir to his cinema, my films are completely different. But it's a character which I worked on for two years, I wrote it, I worked on it with Louis Garrel – who plays Godard – I edited it, so I can't not feel a certain tenderness for my character.
"I really enjoy making comedy, I work at it with great care, I believe it's a very noble film genre so I work very hard at it. And, it's true that Jean-Luc Godard, May '68, people arguing over politics, art and all that… if you do that in a serious manner it can look very pompous, whereas comedy allows you to stand back, it puts things into perspective, which I think gives a fairer account of events and, more importantly, it's a lot of fun to watch."
The film marks the director's return to comedy after his drama 'The Search', about the war in Chechnya, which failed to seduce critics and the public alike.
Michel Hazanavicius:
"When you make a film you do the best you can do. After that, whether it is a success or not is not up to you. I don't think that film ('The Search') is as bad as some critics said, but the fact is that it was a flop, and that was hard, I had to pick myself up again… but it didn't knock me down in the sense that it was it an important moment in my life and for some people, it's a film that really matters."
And how about a third installment of his successful spy comedies OSS 117, starring long-time collaborator Jean Dujardin?
Michel Hazanavicius:
"We are not major studios that decide that the market wants a third OSS, so we write a third installment and we shoot it. The way I do films, there needs to be an element of mystery, a specific film needs to spark a strong desire in me, that's my way of being honest with what I do. Of course, I know that if I did a third OSS film today, it would probably be a great success, but what I can say? For now, other desires have won over that one."
Before starting on a new project, Michel Hazanavicius will be touring to promote his latest movie 'Le Redoutable', out this month.