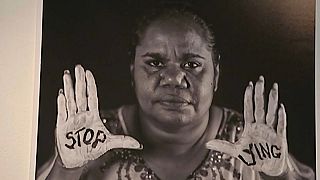 Aboriginal community leaders in Australia's Northern Territory are using the power of political art to spread protest messages about losing control of their land to mining companies.
Their collection of works is part of an exhibition which has opened at the Darwin Festival. Community leaders from Borroloola, a town on the McArthur River in the Northern Territory, have posed for photographs.
They're protesting about smoke pollution and fish contamination from Glencore's controversial McArthur River zinc mine in the Gulf of Carpentaria.
Their arms and chests bear bold white slogans which describe the way the community feels about the way it has been treated by the mining companies.
To read on the web :
The power and politics of Indigenous anti-mine art
Indigenous communities are losing out in the development of northern Australia