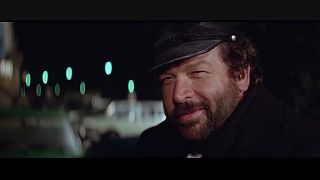 It is a road trip with a difference: a mission to track down and meet in person the Italian actor Bud Spencer.
Starring in a new German documentary, "They called him Spencer", are two fans of the actor: an ex-policeman and a blind bank clerk.
The producers say this is the first feature-length documentary that dives into Spencer's "multifaceted biography as well as the global phenomenon of the Spencer-Hill cult movies".
Terrence Hill played alongside Spencer – who died last June and whose real name was Carlo Pedersoli – in a string of action-comedies.
Director Karl-Martin Pold said: "The two heroes are on a journey to live their dream and they don't give up, they stick to their goal.
"I think this is something you can learn for your life in general: break out of your everyday life and live something crazy, and it's great to have dreams. That's the message of this film: live your dreams."
The documentary about Spencer is now out in cinemas in Germany and Austria and wider distribution rights are currently being negotiated.