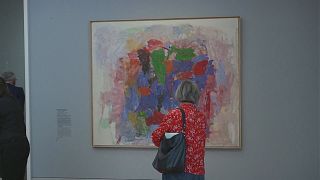 A colourful look back at American art from the 20th century is on show at the Barberini Museum in Potsdam close to Berlin.
On display the early works of US American impressionists though inter-war realism to the post war abstract expressionism.
50 Amerikaner in Potsdam: Museum #Barberini zeigt Bilder der Phillips Collection: https://t.co/ixSKDBCSJzpic.twitter.com/RQi3BW0zJO

— Berliner Zeitung (@berlinerzeitung) June 16, 2017
Ortrud Westheider is the director of the Museum Barberini: "Here in Europe we only have a few works from this early period of American art in the collection of our museums. That is the reason why we so rarely see these works in Europe. That means that there is so much to discover, aside from the big names, and that is why we really wanted to bring these treasures here to Potsdam."
Rundgang mit Susan Frank u Ortrud Westheider, hier: Stadtlandschaften im Maschinenzeitalter, C. Sheeler und R. Crawford #HopperRothkopic.twitter.com/mlCKXWNogM

— Museum Barberini (@MuseumBarberini) June 15, 2017
The works are from the famed Phillips Collection, America's first museum of modern art.
Susan Behrends Frank is Curator at the Phillips Collection, Washington D.C: "Well, I'm surprised and I'm also gratified to know that there is this growing interest and that there is an appetite to learn more about American art."
'From Hopper to Rothko: America's Road to Modern Art in Potsdam.