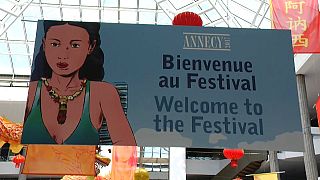 The French Alpine town of Annecy is the equivalent of Cannes when it comes to animated movies.
And the world premiere of 'Despicable Me 3' was just one highlight of the 2017 edition of the Annecy Animation Festival -an event making its mark as far away as Hollywood.
Check out the #DespicableMe3 trailer now. #EvilBrattpic.twitter.com/Z6JORAGGXb

— Despicable Me (@DespicableMe) 24 mai 2017
Euronews reporter Fred Ponsard met the event's director, Marcel Jean.
"At Annecy there is room for all forms of animation, for all formats – television, short films, feature films – but also just as much for blockbusters as for arthouse cinema and more experimental, idiosyncratic cinema," Jean said.
Some of the team behind 'Loving Vincent' – the world's first fully painted feature film, about troubled Dutch artist Vincent Van Gogh – made the journey to Annecy for its world premiere.
Loving Vincent is the world's first fully painted feature film: https://t.co/yA1q72HTYtpic.twitter.com/eWrmsoyvrx

— Loving Vincent (@LovingVincent) 16 novembre 2016
Co-director Hugh Welchman told Euronews:
"We shot the film with actors, mainly against green screen because obviously you can't find Van Gogh paintings in the real world, and then that was the reference for the painters, and then they painted over the actors one frame at a time and tried to keep the performance of the actors, but at the same time bring the brushstrokes of Vincent Van Gogh and the style of Vincent Van Gogh onto the real actors."
#lovingvincent wall animation in park by lake at #Annecy2017pic.twitter.com/8u4tWIWWlN

— hughwelchman (@hughwelchman) 14 juin 2017
with Reuters