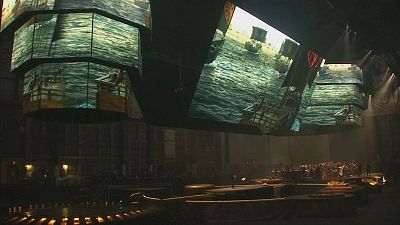 If you are one of the millions of Game of Thrones fans waiting patiently for the new series to start, then this is set to get your heart racing.
The music behind the award-winning television phenomenon is being brought to life in concert.
Extravagant scenery will take audiences on a tour of the mythical continents of Westeros and Essos.
.Djawadi_Ramin</a> rehearses 'The Rains of Castamere' with the orchestra for the <a href="https://twitter.com/hashtag/GameofThrones?src=hash">#GameofThrones</a> Live Concert experience. <a href="https://t.co/TJ0dUUsbCa">pic.twitter.com/TJ0dUUsbCa</a></p>— Game Of Thrones (GameOfThrones) February 1, 2017
Composer Ramin Djawadi said he wanted to create more than just a concert, but an immersive musical and visual experience for the audience.
He explained: "You will have footage from the show (TV series), but then also the really cool additional aspect of it is things happening on stage, the immersive part of it that just visually we will place the orchestra and with that the audience in Westeros.
"And you'll feel like when we play music from North of the wall, you'll see things on the screens and some of the screens can actually come down and surround the orchestra and place you within a snowstorm, for example.
"So it looks like you're in Westeros."
Djawadi not only wrote the soundtrack for the fantasy series but also penned themes for the leading characters as the storyline evolved.
The concert will use an orchestra, choir and multiple screens to tell the story of kings, queens and dragons, and the battle for the throne.
The 'Game of Thrones' Live Concert Experience' will begin its tour in America at the end of February.
While the seventh series of the hit show will air this summer.