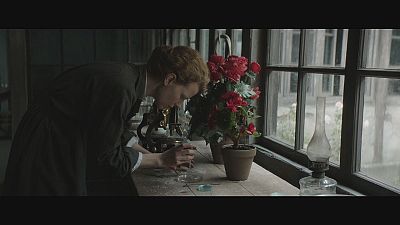 Marie Curie turned the male-dominated world of science research on its head and courted controversy as she challenged France's academic establishment.
She is remembered for her discovery of radioactivity and was awarded the Nobel Prize twice for her work, the first person to win it on two occasions. But the physicist and chemist is also remembered for her unconventional romantic life.
In a sweeping biography starring Polish actress Karolina Gruszka French film director Marie Noëlle, set out to show the person behind the myth an icon by in Poland and France.
"Of course it is very funny to see, that Marie Curie is French in France and Polish in Poland. There is like a competition whether she is more one or the other. And that is quite amusing, because basically Marie Curie was a passionate scientist, who was her own person. And that is also the theme of this movie," the director explained.
"She is more of a monumental figure for us in Poland and we don't know much about her sensibility, about her emotions. That's why I found interesting to play in that film, to show her as a woman, to create a more intimate portrait of her," opined Karolina Gruszka, actress who plays the scientist in the movie.
"Marie Curie" depicts the blissful marriage with her husband Pierre, the father of her children, her partner in research, and co-winner of that first Nobel. When Pierre perishes in a tragic accident, it's up to Marie to continue their work.
But as a woman and a foreigner, she's met with doubly fierce resistance. And though she perseveres, she's nearly undone by revelations regarding her relationship with a married colleague.
"For her it was very important to have this choice how she wanted to live, in what way. She wanted to decide on her own about her life, about her life in science but also about her private life. And that is a huge inspiration also for women today," stressed Karolina Gruszka.
Aggiungere alla lista di film che in Italia non vederemo mai
Marie Curie And The Courage Of Knowledge – Trailer (DE) https://t.co/GAkxGuhjAk

— Alessa sa sa prova (@Sandra_Buffa) November 16, 2016
"Marie Curie" is a French, Polish, German and Belgian co-production. It had it's world premiere at the Toronto Film Festival.
In the final dialogue of the movie Albert Einstein ventures that Marie Curie is the best among women. "And also among men," she said.