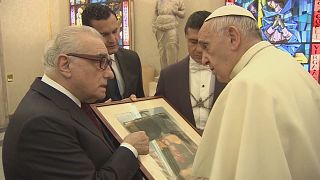 It is a tale of faith under torture, of two Jesuit missionaries journeying to Japan in the seventeenth century in search of their missing mentor.
"Silence" is the latest movie by Martin Scorsese and is a long-time passion project based on Japanese writer Shusaku Endo's 1966 novel about the persecution of Jesuits in 17th-century Japan.
It has already had a unique premier in front of one member of the Jesuit order, Pope Francis and included a private audience of Scorsese and his family with the Pontiff.
During the meeting, Scorsese gave the Pope framed images depicting "hidden Christians" in Japan, including a reproduction of an ancient image of the Virgin of Nagasaki and a portrait of the "martyrs of Japan," images which were used to research the film.
The movie, starring Andrew Garfield, Adam Driver and Liam Neeson is the outcome of a nearly three-decade long passion project for the Oscar-winning Scorsese who spent a year in a "minor seminary", a high school for boys considering the priesthood,
He had written "Silence" with screenwriter Jay Cocks an early draft of the film in the 1990's with the intention of directing it after Gangs of New York (2002). But when Scorsese couldn't get financing for the project, he decided instead to do Aviator (2004).
"Silence" is out in U.S. theaters on 23 December and in U.K. cinemas on January 1.