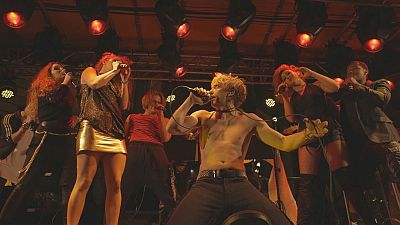 'Bat Out of Hell: The Musical' has previewed at London's Coliseum ahead of its launch next summer.
Named after the best-selling Meat Loaf album, it is the brainchild of Grammy-award winning record producer and composer Jim Steinman, who has been working with Meat Loaf for almost half a century.
Dozens of motorbikes lined the streets outside the historic London venue, revving their engines in chorus to officially welcome the show to the West End.
One of the best-selling artists of all time, Meat Loaf attended the launch, and paid homage to Andrew Polec, the young actor who plays the lead role of Strat in the musical.
"When you're walking into an audience that already knows the songs… they're going to automatically relate it to me. So what his job is is for them to forget me, to put me out of the picture. I no longer exist. The only person that exists, singing that song, is Strat, is Andrew. And leave me out. I no longer exist," he said.
'Bat Out of Hell: The Musical' is a tale of teenage love, youthful rebellion and rock'n'roll. It tells the story of the eternally young Strat and his gang, who roam the streets of a post-apocalyptic Manhattan. One day, Strat falls in love with Raven, the daughter of the city's tyrannical ruler, and decides to free her from her father's clutches.
As well as some new songs written especially for the show, it features seventeen of Meat Loaf's greatest hits.
"When Meat Loaf sang them, he was able to relate to everyone in an audience with the story that he was telling and with his incredible amount of focus and his incredible voice and talent and everything. And I guess to be receiving that torch and carrying it on and continuing to tell this story that relates to so many people is just a gift beyond a gift. So I'm very honored," said Andrew Polec.
Nearly half a century in the making, Jim Steinman's 'Bat Out of Hell: The Musical' plays the Manchester Opera House next February before its world premiere at the London Coliseum from June.