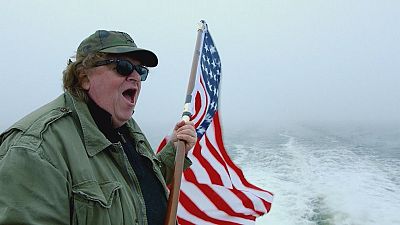 Where to Invade Next is Michael Moore's recipe on how he can America be better.
In the writer and director's first movie in six years, he playfully visits various countries as a one-man "invader" with the idea of pinching their best bits and bringing them back home.
He looks at Ideas such as German workers' participation in the boardroom, healthy school meals from France, Iceland and its strong female presence in government and business, Norway's prison system and the generous holiday allowance in Italy.
On his travels Moore discovers there is much to do to make America great again and he explains why he called the film Where to Invade Next: "The United States has been an invading force for the last 15 plus years and what if we were to invade – not in a violent way – but to learn something and take it back home. So, that's why we called it that."
The 62-year-old visits eight countries in Europe and Tunisia in north Africa. He compares their social and economic positions with his homeland. And while Great Britain was not a part of his tour, the US native, best known for political works Fahrenheit 9/11' and Bowling For Columbine, spoke recently about the upcoming referendum vote in the United Kingdom:
"Why would you do this? You saved Europe. Europe today is in large apart because of you, the UK, you sacrificed and suffered in the 30's and 40's to save Europe. Why would you want to leave?"
Where To Invade Next is released in the UK and Ireland on
June 10.
WHERE TO INVADENEXT, opening nite film this Fri night Sheffield Doc Fest will be beamed to 125 theaters across UK <a href="https://t.co/IlAvuTe2cw">https://t.co/IlAvuTe2cw</a></p>&mdash; Michael Moore (MMFlint) 6 June 2016