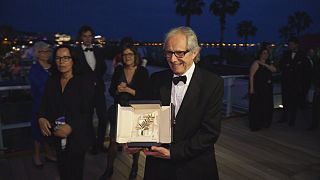 Quietly stunned is how British director Ken Loach described winning the coveted Palme d'Or for a second time with his social drama I, Daniel Blake.
He last picked up the best picture prize in 2006 for The Wind That Shakes the Barley. Set in Newcastle, I, Daniel Blake shows how Britain's social security system conspires to drive a downtrodden carpenter into poverty after he suffers a heart attack.
Loach told euronews he hopes the film will convince people another world is possible: "I think it's a dangerous moment now in Europe because we see that the austerity program, the neo-liberal program is driving people to despair, in milions from Greece to Portugal, Spain, millions are really suffering and millions above them are really struggling, with a tiny elite at the top who are hugely wealthy. Now, we can't go on like that because there is such despair at the bottom."
The #Goldenpalm Goes to… #KenLoach for #IDanielBlake the third of his carrier, a record. Interview euronews</a> <a href="https://t.co/wZGX7K8PGw">pic.twitter.com/wZGX7K8PGw</a></p>&mdash; fred ponsard (fredponsard) May 22, 2016
Jaclyn Jose won Best Actress for her role in Ma Rosa, a brutal dive into the Manila underworld. The film follows the exploits of a struggling mother-of-four who's drug-dealing to make ends meet…until the day's she's caught. She hopes the film will make a difference: "After winning, a lot of people will watch the film, and the president will say "what is that all about, let me take a look". He will get interested in, and hopefully he will something about it."
The Iranian flim 'Forushande' (The Salesman) by Asghar Farhadi received two awards for Best Screenplay and for Best Actor, won by Shahab Hosseini.
In the move, a young couple are forced to leave their crumbling Tehran home and But shortly after their move into a new apartment, their lives are turned upside down by violence.
"I'm very glad to be able to give some joy to my people tonight. I know that Mister Farhadi has done that several times and I'm very glad to join him tonight," Hosseini told euronews.
Speaking to our correspondent Fred Ponsard, director Asghar Farhadi said: "I would say that writing and acting are just the two sides of creating in cinema, that's how I work, because I start directing while I write. So, that's my best definition in cinema."
The Best Director award was shared between France's Olivier Assayas for Personal Shopper and Romania's Cristian Mungiu for Bacalaureat. It's the third time he's been honoured at Cannes and he told euronews every award makes a big difference.
"It's very difficult today for small films, subtitles films, for films which are not in English, for films which are not mainstream and commercial to find a place in the world of cinema. And it's very difficult to find this, we need to fight it through education, and we need to fight it with the help of somebody having authority. And the Cannes Film Festival has the authority to pick up 'auteurs' and to preserve diversity," said Mungiu.
#RedCarpetFestival_Cannes</a> with <a href="https://twitter.com/hashtag/cristianmungiu?src=hash">#cristianmungiu</a> with his actress coming for a prize?! All the awarded <a href="https://twitter.com/euronews">euronewspic.twitter.com/C1NDfoKOoB

— fred ponsard (@fredponsard) May 22, 2016
Bacalaureat tells the tale of Romeo and his daughter Eliza who could study in England if she passes her exams with distinction. It's his dream for her to go abroad but it's not necessarily hers.
For more information on the winners at Cannes this year.