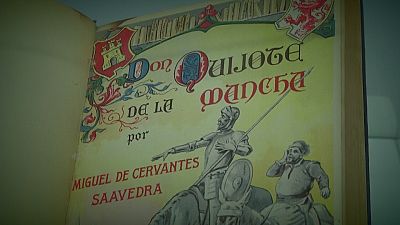 Both William Shakespeare and Miguel de Cervantes died 400 years ago this year.
But while Britain is paying tribute to its most famous bard in grand style, Spain is more modestly celebrating the author of 'Don Quixote', one of the best-known works of fiction ever written.
Apart from the time of their death, the two authors have little in common. Unlike Shakespeare, who was a very successful author and businessman, Cervantes was never able to support himself with his writing.
Despite becoming an immediate hit, 'Don Quixote' didn't make the novelist rich: Cervantes sold the rights for an unknown sum to his publisher.
"Miguel de Cervantes did not meet success in the theatre, but after publishing Don Quixote in 1605 he achieved international fame, well beyond Madrid and Spain. About a decade after the first edition, it had already been published at least six times across the Iberian Peninsula, and then in Brussels, Italy, London and Paris," says printer José Francisco Castro.
The adventures of Don Quixote de la Mancha and his squire Sancho Panza have been translated and adapted many times. Spanish writer Andres Trapiello is the author of one of the latest modern adaptations of 'El Quijote'.
"This novel's major significance lies in the fact that it represents the three main principles of the Enlightenment period, the three great principles that rule humanity: equality, fraternity and liberty," says writer Andrés Trapiello.
One of the highlights of the celebrations dedicated to Cervantes' anniversary is the new production of Don Quixote by the Spanish National Dance Company, inspired by Marius Petipa and Alexander Gorski's 1869 version.
The show is currently touring Spain with stops in Valencia, Bilbao and Granada among other cities.