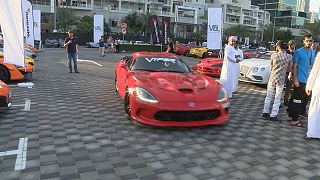 More than 300 custom-made cars were on display at the latest edition of the"Gulf Car Festival in Dubai":http://carculture.ae/gulf-car-festival-2016/.
It was a chance for enthusiasts to admire some of the region's most exotic and expensive cars, as well as brand new models hitting the market for the super rich.
The festival is also a platform for car collectors to show off their latest acquisitions. Australian-born Tim proudly showed off the Chevrolet he bought six years ago: "It's a 1941 Chevy Master Deluxe, it was one of the last cars that General Motors made before they closed down for the war effort in 1942. Bodywise, everything has been modified, down to the French headlamps and air suspensions," he told our reporter, Rita Delprete.
She was also shown a customized car belonging to Dubai-based airbrush artist, Hilal. The design was inspired by a cult horror movie, and clips of the film run on a screen in the trunk of the car.
"Every detail of the car was inspired by the film 'Saw'," explained Hilal. "This really is a unique car, there's no other vehicle like it in the world. I did everything myself, from the exterior design to changes inside the motor."
The festival also offered our journalist a chance to take a bumpy ride with Lebanese car enthusiast Naji in his battered old BMW, equipped with auto-locking front brakes and a manually blocked gear box that allow him to perform his impressive stunts.