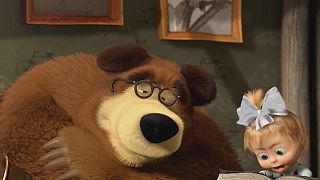 Russian cartoon TV series "Masha and the Bear" has become a world wide hit and is broadcast in over 120 countries.
The show was launched in 2009 and focuses on the adventures of a little girl named Masha and 'the bear', a retired circus performer. The 3D computer animation series, a brainchild of Animaccord, has gone from critical acclaim to international commercial success via internet, reportedly bringing the company approximately 3.79 million euros in revenue in 2013.
Apart from television deals and YouTube royalties, Masha and the Bear gets 60 percent of all revenues from goods licensing.
The adventures of this little girl, who is always protected from disaster by the bear, has drawn the attention of both parents and children all over the world making it an all round family show.
Masha and The Bear is a great success story. Their adventures have been translated into 25 languages and today the cartoon is also broadcast by such media giants as Netflix and NBCUniversal .The studio "Animaccord" would not disclose its profits, but Managing Director Dmitry Loveyko says they have been posting roughly a 40 percent increase in revenue annually.
The cartoon's YouTube channel is in the top 10 most viewed in the world. The episode entitled "Recipe For Disaster" has already received over 1.28 billion views.
What does your victory dance look like? #victory#argument#funpic.twitter.com/ryDgYYE0Uo

— Masha and the Bear (@MashaAndTheBear) April 11, 2016