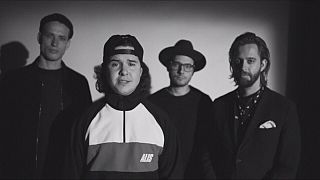 Denmark's Lukas Graham has already enjoyed chart success in Europe and Australia, but he had yet to crack America.
Now the pop-soul singer-songwriter seems to have a hit on his hands, a number two on the Billboard Hot 100, "7 years".
After so much past effort Lukas said the crowd-pleaser came to him quickly, almost organically.
"I've always wanted to release records in America. That's where I believe the music belongs and the style and the eclectic musical mix that we put together kind of belongs here. This is where most of the genres are from. All the rap and soul and rock 'n' roll, most of it anyway," says Lukas Graham Forchhammer, to give him his full name.
The North American tour spreading 7 year's vibe around the nation has been almost sold out; very satisfying for Lukas and extremely promising for building momentum in his campaign to take the vital US market by storm.
"This might sound a little weird, but I like to make people cry. Like when I make people cry when I sing '7 Years,' or 'Better Than Yourself,' 'Happy Home.' They are all these big ballads about loss and pain and family and experience in life. I'm like 'that person gets it.' And if someone's not crying I'll be like 'OK, so that person hasn't gone through that experience yet. Give her five years. She'll get it.' Eventually everyone gets it," he maintains.
The album is the first from Lukas and his eponymous band, and was released worldwide at the start of April.