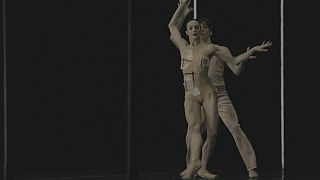 'Links' is Greek choreographer Andonis Foniadakis' latest dance project.
It's currently on at the Greek National Opera, where Foniadakis takes over as ballet director in September.
The internationally acclaimed artist has dedicated his latest creation to Baroque composers Johann Sebastian Bach and Georg Friedrich Händel, who, although they were born the same year and in neighbouring cities, never met.
"I love Baroque music. Bach and Händel are two very important composers of this genre. My intention, out of curiosity and love of this music, was to create a show where the two composers would coexist. I included pieces that are not that well known to the public. I wanted to see how this coexistence would create a new musical landscape," he told Euronews.
The production uses as a starting point a choreography originally developed in 2004. In its rearranged form, the work is fused with two new choreographies to create a classical and modern hybrid hymn to freedom.
"For me, dance is an art form that fluctuates all the time. There is a very powerful energy in my choreographies, they are very fluid. I don't fight these elements. I accept them and try to focus on them. I transform that energy in a way that is both easy for the dancers to perform and for the public to watch," explained the choreographer.
'Links' by Andonis Foniadakis opened to critical and public acclaim on the third of April and runs at the Greek National Opera until April 23.