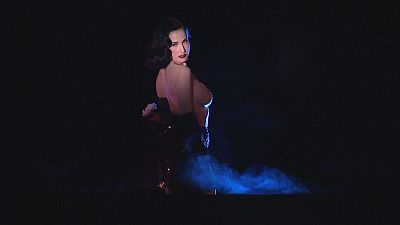 Burlesque queen Dita Von Teese returns for a second guest stint at the iconic Crazy Horse cabaret in Paris, in a whirlwind show of light and classic strip-tease.
VIDEO. Dita Von Teese, l'étoile du strip-tease, rallume le Crazy Horse https://t.co/KXTO19oBpjpic.twitter.com/9RwjsTslBr

— Le Parisien (@le_Parisien) March 16, 2016
She feels at home at the specialist venue:"I was obsessed with this place since I was a very young girl. I love it because it celebrates femininity and it's about showing people the art of the nude and that the degree of the nudity does not make it too risque or something. It's about changing people's minds about nudity and this kind of place."
Watch Dita Von Teese on Le Crazy Horse stage, the first time round https://t.co/B4fWhaLXEi#ThrowbackThursdaypic.twitter.com/Qs2cs3EneU

— Burlexe (@burlexe) March 16, 2016
Dita's Crazy Horse show is mix of modern and traditional burlesque, with added 1940's Hollywood:
"The shows I was doing 15-years-ago are different than what I'm doing now. So I think about keeping the spirit of it, but bringing something new to it, making it a little bit more extravagant, a little bit more modern at the same time. So I just always think of how do I keep the spirit of classic American burlesque that I love and take it to a different level that it hasn't been in the 1930s and 40s."
DitaVonTeese</a> & Les Crazy Girls at <a href="https://twitter.com/hashtag/DitasCrazyShow?src=hash">#DitasCrazyShow</a> VIP premiere yesterday... what a night! Photo by <a href="https://twitter.com/FrancoisGoize">FrancoisGoizepic.twitter.com/YNNXSiS1Px

—

CRAZY

HORSE

PARIS

(@crazyhorseparis) March 16, 2016
'Dita's Crazy Show' runs in Paris until the end of the month and marks the 65 th anniversary of the famed Crazy Horse cabaret.