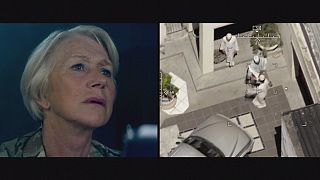 British thriller 'Eye in the Sky' raises the question of the use of drone warfare in international conflicts.
As the plot unfolds, the film shows how politicians, remote drone pilots and army chiefs argue over whether to kill a group of militants. When a young girl turns up on the target zone, her presence adds a moral, humanitarian and legal dimension to discussions.
The film is directed by Oscar-winning filmmaker Gavin Hood: "It's about the way war is changing and the way that warfare is being fought right now," he says. "I think that combination as a director makes you go 'I really feel I want to do this – not only because I think I can bring a lot to this but also because I will learn a lot doing it. And I did.'
British actress Helen Mirren plays the unwavering Colonel Katherine Powell, who believes immediate action must be taken to save lives in the future.
"My grandfather was a military man and there's a certain element, I think, in the military, that you have to be blinkered because to become too concerned about the implications of what you're doing and the byproducts of what you're doing is just too disturbing and distressing. You have to say 'We have to do this. That is what we've got to do. Let's do it.' That sort of thing. And I think she has to have that quality," says Mirren about her character.
The aim of the movie, according to its director, is to spark dialogue on the moral and legal implications of drone warfare: "I hope that what 'Eye in the Sky' does as a film is remind us that complicated issues require genuine dialogue – a deep dive into the issues at stake and not simplistic positional ideas. And if we do that, then we're back to having a democracy in a way. Democracy is about conversation, not winner-takes-all," says Hood.
The film also stars Aaron Paul and British actor Alan Rickman in his last onscreen role.
After premiering to mostly critical praise at the Toronto International Film Festival, 'Eye in the Sky' is set for global release this spring.