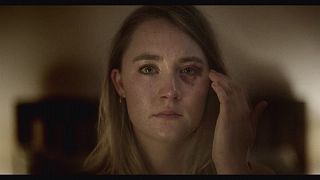 Irish musician Hozier has teamed up with Oscar-nominated actress Saoirse Ronan to highlight the issue of domestic violence.
The latest music video for Hozier's song 'Cherry Wine' depicts a seemingly loving couple until we see deeper into the relationship.
"It's a song written from the perspective of someone who's, I suppose, in an abusive relationship and kind of coming to terms with that, or I suppose not coming to terms with that and kind of justifying it to themselves or to somebody else," he explained.
The song's lyrics offer an insight into an abusive relationship, shining a light on the cycle of justification often perpetuated in domestic violence incidents.
Hozier said all of the proceeds from the sale of the single will go to domestic abuse charities around the world: "We found it very, very hard to find a global programme, which was kind of a shame in itself. But wherever the song will be downloaded, wherever it is in the world – if you're in France or if you're in Spain – it will go to an organisation that deals with providing information, like outreach programs and also shelters for people who are suffering from domestic abuse."
This is not the first time Hozier has tackled social issues in his songs. His 2014 hit 'Take Me To Church' was about a homosexual relationship and the violent homophobic backlash.
'Cherry Wine' features as a live track on Hozier's self-titled debut. The Irish artist, who is currently wrapping up his European tour, says he is looking forward to having time to work on his second album.