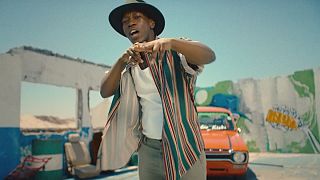 London-based poet, rapper and singer-songwriter Tiggs Da Author is following up his bouncy debut single 'Georgia' with the infectious 'Run' and a sunny video clip shot in Cape Town.
For this latest offering, Tiggs enlisted the talents of fellow rapper Lady Leshurr.
The Tanzanian-born artist explains where his unique feel-good sound comes from: "There's a massive soul influence in there but you get jazz as well. There's quite a bit of influence in there. There's a little hip-hop vibe as well. So I would say it's eclectic soul."
Music critics have been quick to compare the single to Pharrell Williams' hit 'Happy' with its simple, catchy, one-word hook, the profusion of hand-claps and the overriding message of being proud of yourself, whoever you are. The lyrics, however, also have a degree of gravity: "For me, the words always come first when it comes to making a song," he explains.
"If it has no substance then what is the point? Do you get what I mean? Unless you just want people to dance and not think about anything and that's cool. But I always like to make people listen to the lyrics and hear something new, something fresh, that will make them just get excited."
'Run' by Tiggs Da Author is out now. His debut album is due anytime soon.