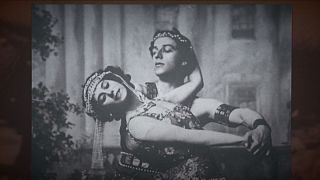 Sochi Winter Arts Festival is this year paying tribute to iconic ballerina Anna Pavlova.
She was one of the first big dancers travelling worldwide - that's why everybody knows about Anna Pavlova
Pavlova was a Russian prima ballerina and choreographer whose ballet company, founded in 1911, was the first to tour ballet around the world. Sochi celebrated what would have been her 135th birthday anniversary by inviting international ballet companies to perform.
"It's a tribute. It's a little bit of what she danced. We try to represent all the countries where she went as a big artist because she was one of the first big dancers travelling worldwide. That's why everybody knows about Anna Pavlova," said choreographer and stage director Stéphane Fournial.
Pavlova is most recognised for performing the role of 'The Dying Swan', a solo choreographed for her by Michel Fokine in 1905, (to Saint-Saëns's 'Le Cygne' from 'Le Carnaval des animaux'). It became her signature dance that she performed about 4,000 times. So, it was not surprising that the tribute in Sochi started with it. The last moments in the life of a swan were presented by Russian-born Mariya Yakovleva from the Vienna State Opera Ballet.
"It's a great honour for me to be one of the ballerinas who had a chance to learn this dance and give more life to the image of a swan. Pavlova's foot technique glorified the Russian ballet," she said.
Another ballet usually associated with the name of Pavlova is 'Sleeping Beauty'. The ballerina stated that when she was an eight year old girl, she had the chance to see Tchaikovsky's masterpiece at St. Petersburg's Imperial Mariinsky Theater as a gift from her mother. That was the day when she fell in love with ballet once and for all. And it is not surprising according to the Paris National Opera Ballet dancers who came to perform this ballet in Sochi.
"This ballet makes boys and girls dream, because there you see a prince and a princess on a stage. It's always something magical for me – to play these characters," said dancer Audric Bezard
Finnish and Norwegian National Ballets, the La Scala ballet troupe, dancers from Berlin and Dresden – all of them paid tribute to the great Russian ballerina in Sochi.