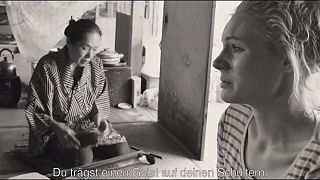 'Greetings from Fukushima', a German drama about the aftermath of the Fukushima disaster, is hitting cinemas in Germany as Japan marks the fifth anniversary of the tragedy.
It tells the story of Marie, who travels to Fukushima shortly after the earthquake and tsunami there to escape her broken dreams. The movie recently picked up two prizes at the Berlin Film Festival.
Director Doris Dörrie shot the film right in the heart of Fukushima's Exclusion Zone only months after the catastrophe.
"I wanted to know what it feels like when everything around you is radioactive – what do you do? What is it like when everything is gone? For me it was important to experience all of this physically, within my own body. Otherwise it's impossible to tell a story," she told euronews correspondent Wolfgang Spindler.
Asked whether there are any parallels with the current refugee crisis in Europe, the director said: "Yes, there are many. My movie is about people who have lost everything in the Fukushima disaster. The refugees who are coming to us have also lost everything. What we have trouble understanding is how it feels to be carrying so many ghosts around with you.
"By ghosts I mean all the people you have lost, the people you miss. And the memories, the smells, the images from home, everything that's missing from your life. And what we have to try and do is imagine what it feels like carrying all of this around."
In the film, Marie meets Satomi, Fukushima's last geisha. Though the two could not be more different, they become friends and face the ghosts of their respective pasts.
Up-and-coming German actress Rosalie Thomass plays Marie. She says she greatly enjoyed shooting with Dörrie: "[She] gives you great freedom as an actress. While I can imagine that some of my colleagues don't like that, it really worked for me. As soon as we agreed on the character I had to play, she left me so much free space I was literally dancing. In many ways, it was like making a documentary, where you have to improvise and work on your own. It was a wonderful experience."
'Greetings from Fukushima' is out now in Germany.