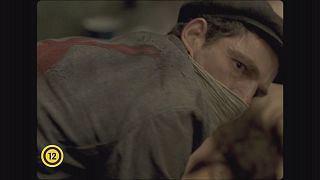 Hungary has only ever once won an Oscar in 1981 when István Szabó's "Mephisto" triumphed as Best Foreign Language movie.
It was very important for us that it cannot be a film that can be watched easily
This year it may have its best chance in a long time of repeating that as "Son of Saul" has Cannes and Golden Globe awards behind it. For a first film by director László Nemes it is a stunning success.
"Son of Saul" is a holocaust movie, but the director says he was determined to make it more than that and treat the atrocity in a different way, through the trials of an individual.
This period provided the material for "Mephisto", too, and it is rich in untold stories.
"The aim was to make the people of today realize what it was, a concentration camp, rather than seeing it from outside or from a post-factum or an external point of view but from the inside. I think this is a recognition for many people," says Nemes.
Saul is a Hungarian Jew whose job is to burn the bodies of his fellow prisoners. Then one day he finds a body he believes is his son. He saves it from the flames, then sets out to find a rabbi to organise a proper burial. For much of the film the camera lurks just off Saul's shoulder; his point of view or the silent witness of the crimes?
"It was very important for us that it cannot be a film that can be watched easily. If it's a pleasant movie experience, a pleasant one and a half hour, it is not good, it doesn't fit the story. So it was very important to find a visual approach that grabs the viewer, doesn't let go and pulls him or her through this madness," says cinematographer Mátyás Erdély.
Hungary's last Oscar nomination was back in 1989 for Szabó's "Hanussen", but "Son of Saul" is the country's first Golden Globe, and Cannes also awarded it sound, acting and cinematography awards, too. The producer says this level of success is all down to a new approach.
"It could give a new voice, it could make a connection with the viewers, and after so many years when there are only a few survivers left, it could still talk about this thing, this thing called the Holocaust, in a way nobody did before. We believe, nobody did before." says Gábor Sipos.
"Son of Saul" has secured distribution in around 80 countries as it tries to be seen by as many people as possible ahead of the big Oscar night. Success there could propel it onto more screens worldwide.