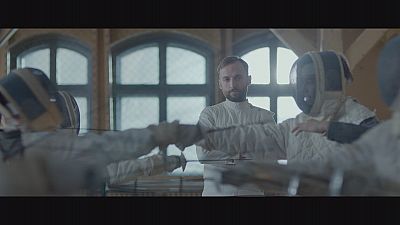 Set in Estonia in the 1950s, 'The Fencer' is the Finnish contender for an Oscar nomination in the Foreign Film category and it has already received a Golden Globe nomination for Best Foreign-Language film.
In the film, a young Estonian fencer, played by Mart Avandi, is forced to return to his homeland to escape the Russian secret police. He then becomes a teacher at a local school – but the past catches up with him, presenting him with a difficult choice.
Director Klaus Haro says he was unsure about taking on the film at first.
"I did not want to read the script. When I was asked: 'Do you want to read a script set in the Estonian 1950s?', I felt, 'Oh boy, it's so grey!' But I said 'yes' to be polite," Haro explains.
"But when I started to read about this person who wants to stay away, who wants to hide from everybody, while he is a teacher of children – naturally they are all over him like a father figure, so it is impossible to hide, to stay private – and I thought this conflict of wanting to stay by yourself and these children who need you. That's a wonderful conflict."
The film is a dramatisation of the life of Endel Nelis, an Estonian Fencing coach who established a school in the 1950s that still trains fencers to this day.
The film weaves in autobiographical details and other themes that characterised Estonia in the mid-20th century.
"I liked the visual idea that in this grey, wintry countryside village, something beautiful almost like dance, like ballet comes in, in the form of fencing. Fencing is white and elegant. And than you have this everyday grey life of the communist Estonia. And this also was a beautiful visual image to me," Haro says.
"There are many themes, of course, because this is set in the Estonian 1950s and it's an era of suspicion. Everybody was afraid of everybody. 'What if I say something wrong, what if I say something that will offend you and you will tell the authorities
"But for me, 'The Fencer' is most of all about the relationship between grown-ups and children. How do we treat children? And there we have the theme of the film, which in one line they say: 'Keep the distance!' In fencing, when you fence you need to see where the other person is, you need to keep a distance and know where that person is.
"To me the theme of the film is really this – if you keep the distance to every person and everything, you will be safe but you will feel meaningless."