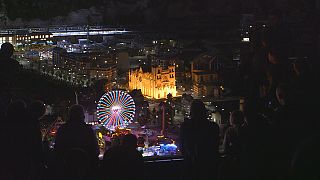 Imagine a small and perfectly formed world where very little people go about their daily lives.
That was one of the sparks which ignited Mini World Lyon, a miniature attraction park still in the making; that's set to open in summer 2016.
After security concerns following the Paris attacks forced the cancellation of Lyon's famous light festival, la Fête des Lumières, the organisers decided to pay tribute by creating a show for charity they call "mini illuminations".
Founder Richard Richarté told euronews about his brainchild:
"Mini World Lyon is a leisure park that focuses on miniature recreations of complete landscapes on a very small scale. The figurines measure 2cm. We have recreated the landscapes of cities, mountains and countrysides that come alive – trains are running, cars are moving and stopping at traffic lights; the vehicles even indicate. We have tried to create magic, a scene so precise that people will want to shrink and step inside."
The Lyon-based light studio, Théoriz, created miniaturised illuminations on the tiny facades of a castle, a nuclear power plant and a snowy ski resort.
Given they only had a week and half's notice, it was an ambitious
project but one they greeted with gusto.
Jonathan Richer from Théoriz explained: "We used exactly the same techniques, except the projectors are weaker. Otherwise it's the same workflow and procedures, the same techniques, everything is the same."
Lights go on for a while during the show so visitors can examine all the details. It gives people a chance to experience what a full night-and-day-cycle in Mini World Lyon will look like when it opens next summer.
The animated world has been developed by a group of about 20 model-makers who call themselves "creators of worlds."
But they didn't want to create something only for enthusiasts, so they added various different features like a playful treasure hunt or surreal gags like cheeky monkeys on the loose.
The aim to is to keep visitors of all ages captivated for as long as possible accroding to Jean-Marc Harthé, Mini World Lyon's creative director.
"We have about 350m2 of decorated surfaces with between 60 to 80 trains that circulate non-stop. There are some 50 to 200 vehicles who run permanently, and we have about 40 000 LEDS on the grid, which light up, or blink and give life to it all."
"My favorite thing is the snow capped mountain. It's really the most magical place. You feel like a child again, I think it'll take everyone's breath away," said Harthé.
Mini World Lyon will open again exceptionally for a few days (17-22 December) just before Christmas but you'll need to reserve online quickly as places are limited.