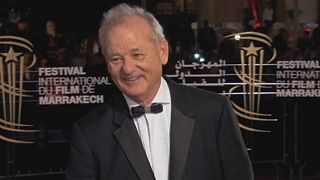 The heart of Marrakech is beating to the rhythm of its international film festival which is in its fifteenth year.
Headed by iconic US director Francis Ford Coppola, the jury also counts Japanese film maker Naomi Kawase and Ukrainian Bond-girl Olga Kurylenko among its members. Special guests include British actress Gemma Arterton, who already attended the festival back in 2012 as a jury member.
Speaking to euronews Arteton said: "Africa has such a rich culture and the cinema often gets forgotten within the culture of Africa, but I think it's an amazing thing that they have brought the festival here and there's such a huge appreciation for cinema, especially in Morocco. You know, they go crazy for it here, and I think we should do that in more countries, there's such a rich culture for cinema."
Opening the festival was Barry Levinson's 'Rock the Kasbah', starring Bill Murray, who received a career tribute at the festival.
The honour was presented to him by his friend and filmmaker Sofia Coppola, who directed him in the award-winning movie 'Lost In Translation' alongside Scarlett Johansson back in 2003. (The pair also teamed up again this year for a television Christmas special.)
Set in Afghanistan, 'Rock the Kasbah' was shot in Morocco – a filming experience Murray said he greatly enjoyed and would love to repeat again soon.
"I mean I love the country very much, I love the people very much, and the professionals – the TV people – were very, very… not just talented and capable, but thoughtful of each other. To me, that makes it all worthwhile," said Murray.
Euronews met up with the legendary comic actor to discuss his latest film, based on the true story of a young Pashtun girl who dared to compete in Afghanistan's all-male version of the TV singing contest American Idol.
"She endured great pressure and many threats and prevailed, and ended up singing and became sort of a hero in that country as a woman who stood and said, 'We're 52 percent of the population, I think we have a right to be heard, especially singing," said Murray.
The festival is taking place against a backdrop of recent terrorist violence against cultural targets, including the Paris attacks. Festival attendees are being subjected to extra security checks this year. It comes after Islamic State militants issued threats vowing devastating attacks against Morocco over its cooperation with France and Belgium after the Paris attacks.
Nonetheless, Marrakech's famous and bustling Jemaa El Fna square is even busier than normal as locals gather for outdoor film screenings. On opening night, Bill Murray's massive 1984 hit 'Ghostbusters' drew a large, enthusiastic crowd.
Asked about the role of cinema in the current international climate, jury member Jean-Pierre Jeunet confessed to feeling the limits of his art against terrorism.
"Thirty years ago, I worked at Charlie Hebdo, I knew Cabu, I knew Wolinski, and when I see what happened… if my scriptwriter had suggested doing a film where we would, for example, represent you know who (the prophet Mohammed) in pictures, I would have said: I don't think we should do that. And that's giving up, it's being afraid, so, in a way, violence, a Kalashnikov, is stronger than a camera, sadly."