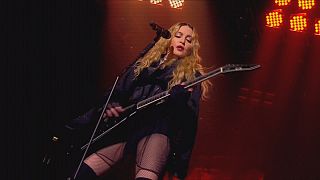 There was an expectant buzz at London's O2 Arena at the start of December. Despite many performers in cities across Europe canceling their shows after the Paris attacks Madonna has stuck to her schedule and played to a sell out arena on the two-night visit.
The performer has kept all her dates on her 'Rebel Heart' Tour and her fans have stood proudly behind her in the midst of increased security as several explained.
"We got our bags checked, we were checked, so we feel really secure today."
"I'm not worried in the sense that something could happen but you can't let them stop you doing what you want to do. If she is still getting up on stage performing in these places, we can still be there to support her."
"The show's message is about love and acceptance and tolerance and if she stopped performing then….."
"They've won and we don't want them to win. And by coming here and doing what we're doing, then we win."
"I think security is important but I also believe, like Madonna believes, we can't stop here because otherwise you stop living. People have to make a stand and really show that, you know, we're not afraid of anything."
The star played electric guitar on a rock-inspired remix of her 1983 hit 'Burning Up', sang a mix of chart-toppers from her 30-year long career and new songs from her 'Rebel Heart' album.
The 57-year-old kicked off her international 'Rebel Heart' tour in Montreal back in September and the European leg has taken her to such cities as Prague, Berlin Barcelona and Amsterdam.
In Stockholm last month Madonna paid tribute to the victims of the Paris attack.