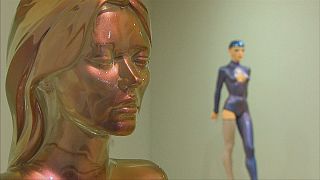 British pop artist Allen Jones returns to the subject of supermodel Kate Moss in his latest exhibition in London, which once more puts the female figure centre-stage in sculptures ranging from the hyper-realistic to the abstract.
His latest depiction of Moss is made of polished stainless steel and cast resin. Jones says the British supermodel became his subject by accident after a collector chose him to create the pieces.
"I was one of many artists who've been asked to respond to Kate, and I felt since I spent my life painting an idealised female figure, that I'd be failing in my professional duty if I couldn't take on the challenge of painting one of the icons of our time," he says.
'The Blue Gymnast' is another of the hyper-realistic pieces featured at the show.
One of the most significant British artists of the last fifty years, Jones explores the representation of the human figure. His sexually charged fibreglass sculptures depicting life-size statues of women as furniture emerged in the late Sixties, causing some controversy.
But the artist denies being out to shock: "Somehow or other it became clear to me about 45 years ago that it was the figure that I was really preoccupied with, and depicting it and the relationships that figures can have with each other has just, basically been my subject matter," he explains.
Several of the other works on display are brightly coloured abstract pieces merely suggesting the female figure. Jones's work has been shown around the world, with a major retrospective at London's Royal Academy last year.
'Colour Matters' is on display at London's Marlborough Fine Art gallery until early January.