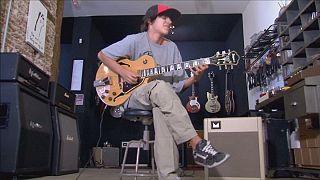 If you're a guitar aficionado passing by the Headbanger Rare Guitar shop in Madrid, you might be lucky to find a teenager in a baseball cap bent over a 1955 Gibson, his nimble fingers producing jazz scales rarely heard from a mere 17-year-old.
His name is Pedro Gonzalez.

If you're a guitar aficionado visiting the Headbanger Rare Guitar shop in Madrid, Spain, you're likely to find a... https://t.co/sOQrK4NYeG

— Riyadh Vision (@RiyadhVision) November 14, 2015
Pedro´s technique is based on internet videos of guitarists like Wes Montgomery, one of his idols. He has yet attended a live jazz concert.
"Speaking about jazz, what I really like is Wes Montgomery, Duke Ellington and George Benson."

Wes Montgomery/solo pic.twitter.com/bnbX6XAxbO

— CoolGuitaristPics (@CoolGuitaristPi) November 13, 2015
One day he entered the shop, tested a guitar and became friends with the owner.
They even organized a concert with a group of well-known Spanish indie rock musicians to help his parents pay for his lessons at the private music school Musica Creativa.
After completing the Madrid course, Gonzalez has his sights on Berkeley College of Music or Conservatorium in Amsterdam, defying some fans' views that he already is a master.
"There is a long way to go. You never stop learning, it is impossible to know everything in music or any other subject, it is impossible."
Pedro dreams about going to Boston, Berkeley or Amsterdam to learn and play jazz.