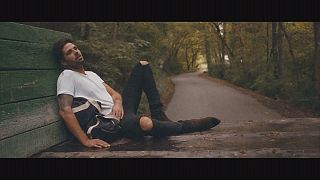 Nearly a year after winning the British TV talent show The X Factor, Ben Haenow is releasing his self-titled debut album.
A former van driver, the 34-year old has been in bands since the age of 15 and has seen his life transformed. He says rather than rush out a record in just a few months, he chose to take his time.
"I think distancing yourself from the show in some respects – obviously it gave me an amazing platform and I wouldn't be where I am without that show – but I think in some respects if you can kind of go under the radar when you're recording your stuff and try and show yourself as your own artist rather than people going, 'That's the guy who won the 'X Factor', you know, coming back and getting your name out there, I think that's the way. I mean distance yourself from it, obviously I don't mean it's a terrible experience and you should forget about it. But it definitely helps to try and become and artist in your own right, really," he explains.
For the album's first hit single 'Second Hand Heart', Haenow teamed up with American singer-songwriter Kelly Clarkson, who herself rose to fame in 2002 after winning the US equivalent of The X Factor, American Idol.
"We got in the studio and recorded it as a solo track out in LA," says Heanow. "We got back to the UK and we had some meetings and there were actually a couple of songs on the album that potentially could've been duets, just because the lyrics seemed to lend themselves to that. So they threw a couple of names out, one of them was Kelly Clarkson. Obviously I was like, 'If she is interested, I would love her to be on the song.' Sent her out the track, she loved it and it was a no-brainer from there, really."
Ben Haenow's debut album is out this week with his 'One Night Tour' of the UK due to kick off next April.