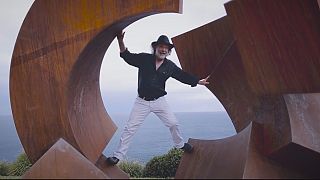 Every year, Sydney's coastline is transformed into a public art gallery for a couple of weeks thanks to the 'Sculpture by the Sea' exhibition, Australia's largest outdoor sculpture show.
Among the 100 artists present this year, Germany's Jörg Plickat won the best sculpture award for his work 'Divided Planet', which he picked up on a rainy and windy day.
"Yeah, it's an authentic feeling to do outside sculptures, really!," he exclaimed with a big smile. The artist described his winning artwork as a political statement about global warming and poverty: "It is like a sphere, it is like the planet divided into fragments. Political, ethnical (sic), economical, parts."
One of Germany's most important sculptors, Plickat is today exhibited around the world, with dozens of his monumental pieces on show in public places or churches.
Setting up the sculptures and installations along the more than two-kilometre coastline from Bondi to Tamarama requires months of preparation and logistics.
"They've got their materials, their machinery, then they've got freight and then there's installation. For most of these sculptures there's as much going on under the ground, or structurally from an engineering point of view, as there is artistically," explained Sculpture by the Sea director David Handley.
The exhibition includes a wide range of approaches to sculpture from around the world – Californian artist Marina DeBris recycles trash in her work to raise awareness about pollution in the ocean and on beaches: "This is called 'City to Surf". It's actually all local trash (she shows model's clothing made of trash). This is all found either at Bondi beach, Tamarama or Bronte beach. So you can see it, and this is only a teeny fraction of what's out there. I only pick up what I'm going to use," said the artist.
More than a half a million visitors are expected to visit the exhibition which ends on Sunday.