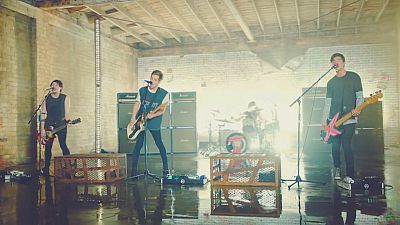 Pop-punk band 5 Seconds of Summer are out to prove that they are more than just another boy band with their second LP 'Sounds Good Feels Good' reaching Number 1 on the U.S. album Billboard 200 chart.
It's the Australian quartet's second consecutive Number One after their self-titled debut album and they say the pressure was on for the follow-up record.
"There was pressure like 'Can we still write songs? Do we know how to do it still?', says vocalist and guitarist Luke Hemmings. "But when we actually started writing it we had more to write about than on the first album so when it all came out it was almost… not easier but it came out quicker than the first album did."
"Yeah we had a better sense of what direction we wanted to go in and there was more self-belief in what we could achieve as a band as well," adds Calum Hood.
The band, which formed in 2011, were originally YouTube celebrities, posting videos of themselves performing cover songs. They rose to international fame while touring with English-Irish pop boy band 'One Direction' in 2013.
In the spring of this year, they embarked on their first headlining tour of Europe, Australia, New Zealand and North America – an extensive live experience they say changed the way they wanted to play music.
"We wanted to evolve our sound to match up with our live act a little more," explains band member Ashton Irwin. "The first recordings we made on the self-title – the first album – we went away and we toured that two and a half years and we played hundreds and hundreds of shows, and that changes how you play your instrument, that changes how you sing and that changes how you view music even. So we wanted to translate that in our new songs. These songs were written for a live experience."
Unlike many boy bands, 5 Seconds of Summer write their own songs, play their own instruments and are not primarily a dance group.
With their second album out, the are preparing for another world tour next year with gigs in Asia, Europe and North America.