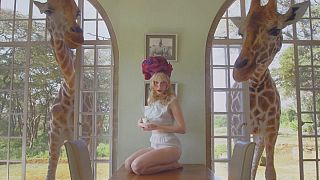 Rising French popstar Petite Meller is releasing her new single 'Barbaric', building on the successful elements of her previous hit 'Baby Love'.
With her quirky style, jazzy-pop music and colorful videos, the Parisian singer says she wants people to dance their pain away.
We spoke to the Sorbonne philosophy post-grad student at a recent concert at London's famous gay nightclub, Heaven: "In time, I invented my own genre, which is nouveau jazzy-pop, a mixture of jazz, French songs and kind of piano-house. So I mixed it all to create my own genre and I worked with many producers on my album in Sweden, in London, in LA."
Apart from her quirky songwriting, Petite Meller is also a keen visual artist who draws her inspiration from French New Wave cinema and Italian directors Michelangelo Antonioni and Federico Fellini.
In her summer hit 'Baby Love', shot in Kenya, she takes us on a voyage into her absurd fantasies with a song that explodes with exuberance and dizzy drumbeats, featuring a catchy handclap chorus and jazz saxophone.
"First comes the sound," she explains about her video clips. "So, like, in 'Baby Love', we wrote in the studio in Sweden and it started from a beat-box I did with my voice. And it felt very African and we added bongos and congas. And it felt like the sound and the beat was very African. From the sound I knew I was going to shoot in Africa. So the ideas for the video come always from the music."
With her blushed nose and cheeks, platinum hair, pastel dresses and outfits that look like old-fashioned bathing suits, Meller freely expresses her feelings in her music and her look: "I wear this kind of blush and people used to laugh at me, but I think, I believe you should wear your trauma proudly. My blush is from a sunburn I got as a kid and I believe people should be proud of what they carry in their backpack in their past."
Petite Meller's new single 'Barbaric' is out on November 6.